I was born in Lviv, Ukraine (Former USSR) and began studying the piano accordion at the local music school at the early age of seven, as well as taking additional private classes with well-known teachers in the area. My first performance as a soloist took place at the age of nine on the Lviv City Radio. At the age of 12, I became a member of the City Accordion Ensemble, performing regularly around the city and region. At the age of 15, I took first place at the City Accordion Competition.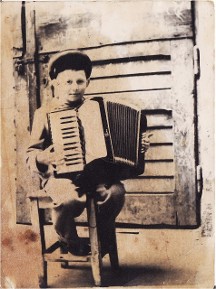 After music school, I continued my musical studies at the Lviv Musical College and after graduating at the age of 19, I joined professional musicians, folk singers and dancers in the Army Orchestra, entertaining troops around Ukraine. After my army duty, I continued my professional career, performing as a soloist and with other bands and working with singers and dancing groups.
In 1989, I left Ukraine for the United States. Before getting here, I had a year-long stopover in Vienna, Austria and Rome, Italy, where I performed with the Austrian and Italian musicians and gained extensive knowledge of Austrian, German and Italian music and culture. In 1990 I came to the United States, where I continue to expand my musical career. I appeared on the "New Americans in Concert", sponsored by Jewish Philanthropies of Greater Boston. In 1991 I became a member of Kalinka Trio (accordion, singer-soprano and balalaika player), arranged by Mary Wolman Management in Brookline, Massachusetts.
In 1994, I performed in the French Cabaret show, which featured Parisian singer Annie Royer and her band, who entertained the audiences in the Ryles Jazz Club and other venues around Boston. I have also formed a Klezmer band named Redl (the Circle Dance), and have been invited to perform after the restoration and the re-opening of The Vilna Shul - Boston's Center for Jewish Culture and other various private and public Jewish events around New England.
At the present time, I own and operate Entertaining with Accordion, providing live accordion music for all special occasions such as wedding cocktail hour and receptions, birthday parties and other special events and celebrations. Some of my very popular performances are for Italian, French, Oktoberfest and Jewish events. They are customizable to meet not only your music needs but also with my appearance / what I wear during my performance. For example, for the Oktoberfest events, I wear a Lederhosen costume and perform traditional folk German music. With my digital Roland accordion, the Oompah music made up of polkas, marches and waltzes sounds like a real German band or Klezmer Band for Jewish music or the sound of Parisian musette accordion or the sound of Italian accordion with mandolin.
For more information, please visit my Gallery and My Accordion pages.